DARK TO LIGHT: Presidential Alert – Patriots Are In Control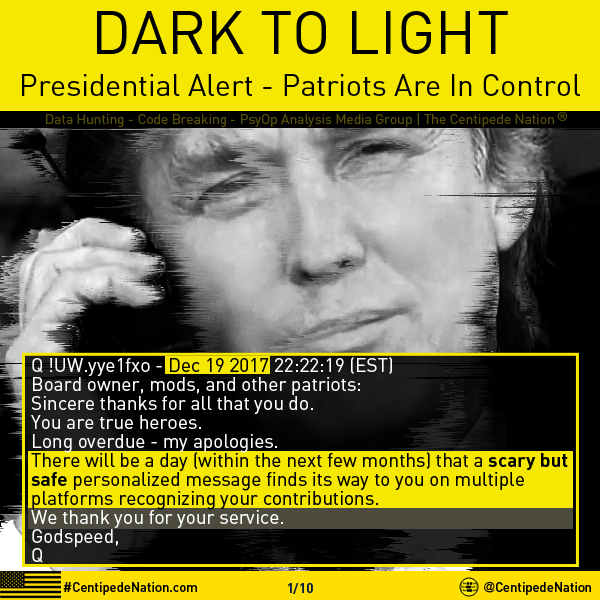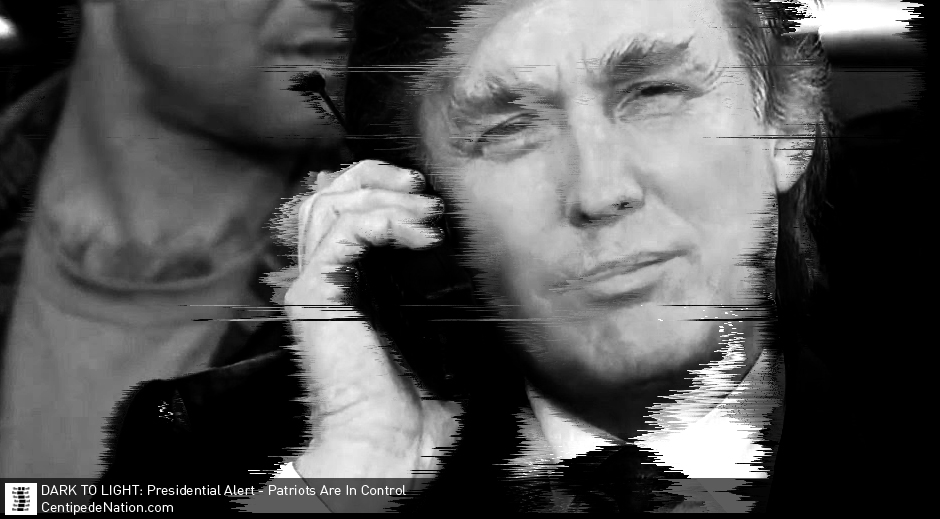 A few days ago, the Trump administration has told the public that they will perform a test through FEMA's Emergency Messaging System this Thursday, Sept 20th, 2018. Qanon has told us of these tests in the past, and reminded us again just yesterday. We will attempt to explore and connect some of the dots to help explain what this all means.
UPDATE:
It has come to our attention that FEMA has pushed the date of the Emergency Broadcast system to October 3rd, beginning at 2:18 PM EDT.
On December 19th, 2017, (Post #393) Qanon dropped the following breadcrumbs:
Q !UW.yye1fxo – Dec 19 2017 22:22:19 (EST)
Board owner, mods, and other patriots:
Sincere thanks for all that you do.
You are true heroes.
Long overdue – my apologies.
There will be a day (within the next few months) that a scary but safe personalized message finds its way to you on multiple platforms recognizing your contributions.
We thank you for your service.
Godspeed,
Q
Articles talking about President Trump sending an Emergency Messaging System has been doing the rounds throughout the internet all last week. Example here: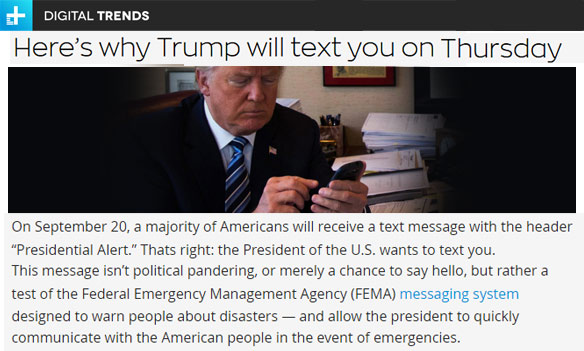 Source: Digital Trends
Is this the message Q has told us about back in December 2017? Is Trump/Q team about to send a scary but safe personal message to anons through the Emergency Messaging System?
Is There a Link Between the Emergency Messaging System and The Recent Shut Down of U.S. Solar Observatories?
Were the Solar Observatories that were recently shut down linked to this Emergency Broadcast test? Was it to take away the bad actors' ability to interfere? There were over 15 observatories with cameras that have been taken down. Why is that? Have we been infiltrated by foreign/domestic spies? Deep State assets removed?
LIST OF OBSERVATORIES WITH CAMERAS TAKEN DOWN:
What is going on?
Best credible theory so far is that the facility was infiltrated by domestic and/or foreign spies, which is why the FBI got involved. As a result, they've shut down a bunch of similar facilities with equal potential of threats. Those facilities had high-end equipment with surprisingly low security.
Just yesterday, Sunspot Observatory released the following statement:
"AURA has been cooperating with an on-going law enforcement investigation of criminal activity that occurred at Sacramento Peak. During this time, we became concerned that a suspect in the investigation potentially posed a threat to the safety of local staff and residents."
Does anyone find this statement suspicious at all? This "suspect" – they claimed – posed a threat to local staff, while declining to mention the local sheriff reported seeing a black hawk helicopter deployed to that location just last week. We are safe to assume there's more to this story than what we're being told. In fact, a DARPA whistle-blower has come forward with what sounds like a plausible theory in which he claims that the Chinese were behind the spying at the Observatory and could have used their facility to pull off a simulated EMP attack since they were connected through a network of different weather modification systems (HAARP, HAMMER, SMACC), knocking out most of our digital communications infrastructure. This is also a possible reason why most U.S. Observatories were taken offline as well, as this indicated it is not an isolated incident like the statement given by the observatory yesterday would have you believe.

Without digressing too much, let's continue on with the Q drops and the EMS situation.
On Sep 16, 2018, (Post #2186) Q posted the following:
Q !!mG7VJxZNCI ID – Sep 16 2018 13:13:12 (EST)
TEST [Thursday] by DoD to confirm 'free-flow' of direct comms.
POTUS SPEC AUTH REQ [think 'the football'].
NSA monitoring for any attempts to disrupt and/or term access.
CENTRAL Command.
Q
The test on Thursday is to monitor and identify any vulnerabilities within the Emergency Messaging System that can be exploited by bad actors that may attempt to stop the free-flow of information. The DOD is conducting the test and the NSA are monitoring it.
Those wondering what Q meant by "the football", it is a reference to the Briefcase used by POTUS to authorize a nuclear attack. Q is saying the same procedures are in place for POTUS to send out emergency messages, as there are for him to launch a nuclear warhead. This is big news.
What This Means:
Q has told us multiple times that social media platforms will eventually try to shut everyone down right before damning information comes to light. Being that Trump is the only President to speak to the people daily through twitter while bypassing fake news, this means that once Social Media shuts down, Trump will use the Emergency Messaging System to communicate with us.
November 2, 2017 – POST #59
We are fully prepared that all social media will be shut down to prevent the spread of this information (i.e. POTUS' Twitter etc. and/or mass censoring).
Sep 12 2018 – POST #2165
Censorship Will Fail.
Those They Attack The Most Are The Biggest Threat.
Expect Twitter/Fb Force Next.
Aj [Template] Was Designed To Attack/Censor 'Qanon' [Primary Obj].
THE CENTIPEDE THEORY
What if all these social media take-downs are actually going to be done by the Q team? What if they have infiltrated the developer departments of each social media platform? Not possible?
THINK ABOUT THIS:
If all Social Media platforms know about Q and his "predictions" of a shutdown, then why would they play along with these "predictions" and validate Q? Well if they had any power, they wouldn't. Could it be that the Q team has infiltrated all social media platforms with their own people in order to instigate these "predictions"? Q did say we are watching a movie. A movie is scripted.
Nov 2, 2017 – Post #61
As discussed, we've anticipated the Twitter and other social media blackouts. Rogue agents/programmers.
Per sealed Federal orders, we quickly tracked and reinstated.
Expect outages periodically (infiltrated).
Let's explore our theory more…
THINK MAGIC
Feb 11, 2018 – Post #720
Q !UW.yye1fxo Feb 11 2018 12:04:42 (EST)
Do people believe all recent resignations, plane crashes, plane re_routes, EMS/EBS activations, blackouts, etc are simply a coincidence?
Why did Sessions [at the beginning] emphasize investigations/proceedings are kept confidential?
Think magic.
What you see …….
Do you really believe nothing is being done?
Re_read past crumbs.
Who has the power?
Why was this emphasized in the beginning?
You have more than you know.
What you see is a performance by actors creating the illusion. Also, remember what Q said in the very beginning?
Oct 29, 2017 – Post #6
Anonymous ID: – Oct 29 2017 11:11:40 (EST)
Don't fool yourself into thinking Obama, Soros, Roth's, Clinton's etc have more power present day than POTUS.
Patriots are in control. Sit back and enjoy the show.
BLACKOUT NECESSARY
Jun 3, 2018 – Post #1440
Q !CbboFOtcZs Jun 3 2018 14:58:29 (EST)
BOOM.
BOOM.
BOOM.
BOOM.
A WEEK TO REMEMBER.
DARK TO LIGHT.
BLACKOUT NECESSARY.
Q
Why is a blackout necessary and what does it imply?
This implies that certain events need to happen (blackout) in order to go from DARK TO LIGHT (Information to become public). In order to achieve that, patriots must be in control (which we already know from Q that is the case). So in order to justify having control over the Emergency Messaging System, a complete and controlled social media blackout is necessary. Get it now?
When Q team takes down Social Media, Q is actually taking down their communication platforms while operations take place. This completely disables their way of sharing and controlling the narrative, while POTUS communicates directly to us.
The stage setup is nearly complete.
Q KNEW THIS DAY WOULD COME
Jun 30, 2018 – Post #1646
Q !CbboFOtcZs Jun 30 2018 13:36:13 (EST)
WE KNEW THIS DAY WOULD COME.
https://www.youtube.com/watch?v=G2qIXXafxCQ📁
WE PLANNED.
WE TOOK CONTROL OVER KEY ELEMENTS.
WE STAND AT THE READY.
WE FIGHT.
DARK TO LIGHT.
GOD BLESS AMERICA.
GOD BLESS PATRIOTS AROUND THE WORLD.
THINK FOR YOURSELF.
TRUST YOURSELF.
COURAGE.
TOGETHER.
Emphasized text is by us.
WE PLANNED.
WE TOOK CONTROL OVER KEY ELEMENTS.
WE STAND AT THE READY.
Does it make sense now? Keep this in mind: We're not saying that any alarming messages will happen this Thursday. We are simply being told this is a test, and Q is letting us know this as well. What we will witness is a demonstration of the infrastructure put in place that allows for Trump the ability to communicate with us directly. What happens after is anyone's guess.
"No Matter What Happens The Media Will Not Push The Truth" – Q
Leave a comment below and let us know your thoughts. And as always, God bless America and long live the republic. Where we go one, we go all.
⠀⠀⠀⠀⠀⠀⠀⠀
⠀ . ╚⊙ ⊙╝⠀⠀⠀⠀⠀⠀⠀⠀⠀
..╚═(███)═╝⠀⠀⠀⠀⠀⠀⠀⠀⠀
.╚═(███)═╝⠀⠀⠀⠀⠀⠀⠀⠀⠀
╚═(███)═╝⠀⠀⠀⠀⠀⠀⠀⠀⠀
.╚═(███)═╝⠀⠀⠀⠀⠀⠀⠀⠀⠀
..╚═(███)═╝
Support Centipede Nation
Stories like these are made possible by contributions from readers like you. If everyone who enjoys our website helps fund it, we can expand and improve our coverage further.