GOODBYE SESSIONS – Phase 2 – Nothing Will Stop What's Coming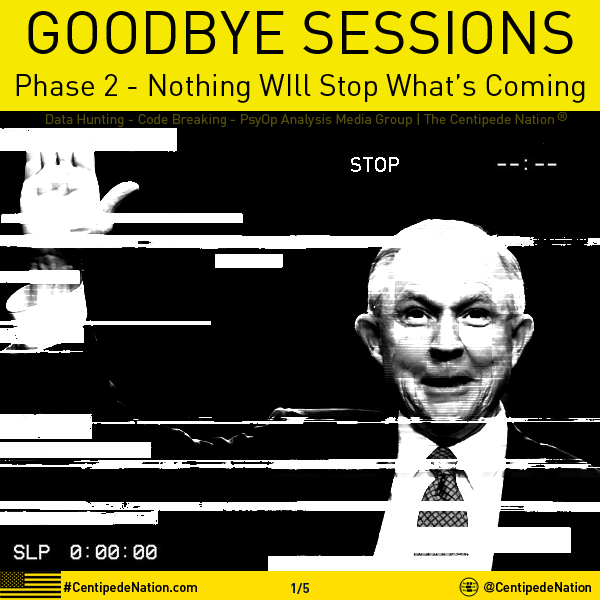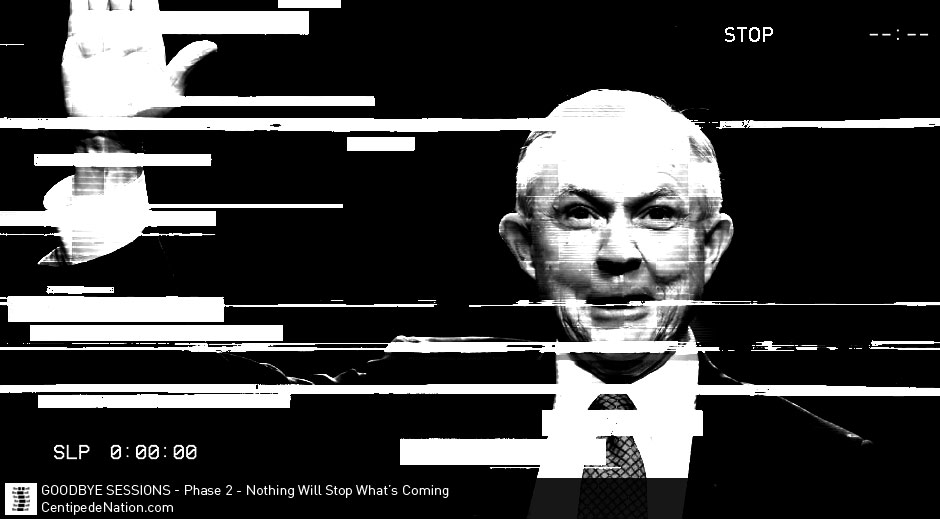 Phase 2 begins now. Here's a little treat for everyone. If anyone thinks this hasn't been planned in advance, here's a quote from Steve Bannon's latest interview with @fleccas (fleccas, did you catch it? Do you realize what you were just told?): "This is where Jeff Sessions, Steve Miller and I plotted out the 2016 campaign… In January 2013".
New Acting Attorney General
Let's get straight to the point. Jeff Sessions has just resigned and Trump has just appointed Matthew Whitaker as Acting AG. The Washington Post reports:
In a letter to Trump, Sessions wrote he had been "honored to serve as Attorney General" and had "worked to implement the law enforcement agenda based on the rule of law that formed a central part of your campaign for the presidency." Trump tweeted that Sessions would be replaced on an acting basis by Matthew G. Whitaker, who had been serving as Sessions's chief of staff.

…

A legal commentator before he came into the Justice Department, Whitaker has mused publicly about how a Sessions replacement might reduce Mueller's budget "so low that his investigation grinds to almost a halt." He also wrote in a September 2017 column that Mueller had "come up to a red line in the Russia 2016 election-meddling investigation that he is dangerously close to crossing," after CNN reported that the special counsel could be looking into Trump and his associates' financial ties to Russia.
What This Means – Phase 2 Begins
New Attorney General has NOT recused himself from Russia investigation. Think about what that means. If sessions were to challenge Rosenstein, it would immediately trigger attacks to remove Sessions given his clear involvement in receiving information RE: A case he was fully recused from. So now that it's going to be a new Attorney General, they can go after Rosenstein without backlash.
This blows up the whole Mueller investigation.
Let's take a look at Qanon's post from July 26, 2018 – Post #1711
Q !CbboFOtcZs ID: d74be4 No.2296993

Jul 26 2018 11:44:26 (EST)
https://1zwchz1jbsr61f1c4mgf0abl-wpengine.netdna-ssl.com/wp-content/uploads/2018/04/Gohmert_Mueller_UNMASKED.pdf
What was the point of filing impeachment art if Ryan was going to reject?
Known beforehand?
Optics.
Think logically.
Could Sessions publicly challenge [RR] w/o creating a dilemma?
What events would immediately transpire if Sessions challenged [RR]?
Would it immediately demonstrate that Sessions must be aware of key Mueller facts?
Facts (or failure of duty) that he cannot possibly 'know' if recused?
Facts (a case) he is suppose to be recused from?
Think logically.
One challenge to [RR] would immediately trigger attacks to remove Sessions given his clear involvement in receiving information re: a case he is fully recused from.
Who does Huber [directly] report to?
Is it normal [RR] is side-stepped re: Huber CoC?
Why is this important?
Why did Sessions recuse?
Is the LEFT attacking Sessions?
What advantage(s) exist based on this setup?
POTUS publicly expresses his anger re: his recusal?
Do you believe POTUS would allow a complete takeover of his DOJ if nothing was being done behind the scenes to hold people accountable?
When POTUS states "the swamp is being drained" do you believe it?
When POTUS states "it's happening" do you believe it?
Do you believe POTUS would allow Sessions & [RR] to run HIS DOJ if something wasn't being done to his liking?
LOGICAL THINKING.
Clickbait derails logical thought.
Think for yourself.
Trust yourself.
Mueller investigating POTUS' Tweets for obstruction?
You have a front row seat.
Enjoy the show.
Q
The latest resignation by Jeff Sessions was already part of the plan. Think logically.
What Happens Next
Acting AG Matthew Whitaker is now expected to take over the fake Russia probe headed by Mueller.
BREAKING: *WHITAKER SAID TO TAKE OVER MUELLER PROBE: U.S. OFFICIAL

— Mike Dorning (@MikeDorning) November 7, 2018
Let's end this post with a lovely quote by Qanon.
Q !!mG7VJxZNCI No.422
Nov 6 2018 16:16:21 (EST)

History is being made.
You are the saviors of mankind.
Nothing will stop what is coming.
Nothing.
Q
BONUS Treat
Leave a comment below and let us know your thoughts. And as always, God bless America and long live the republic. Where we go one, we go all.
⠀⠀⠀⠀⠀⠀⠀⠀
⠀ . ╚⊙ ⊙╝⠀⠀⠀⠀⠀⠀⠀⠀⠀
..╚═(███)═╝⠀⠀⠀⠀⠀⠀⠀⠀⠀
.╚═(███)═╝⠀⠀⠀⠀⠀⠀⠀⠀⠀
╚═(███)═╝⠀⠀⠀⠀⠀⠀⠀⠀⠀
.╚═(███)═╝⠀⠀⠀⠀⠀⠀⠀⠀⠀
..╚═(███)═╝
Support Centipede Nation
Stories like these are made possible by contributions from readers like you. If everyone who enjoys our website helps fund it, we can expand and improve our coverage further.