Q: CLINTON & 5 EYES – WELCOME TO THE DEEP STATE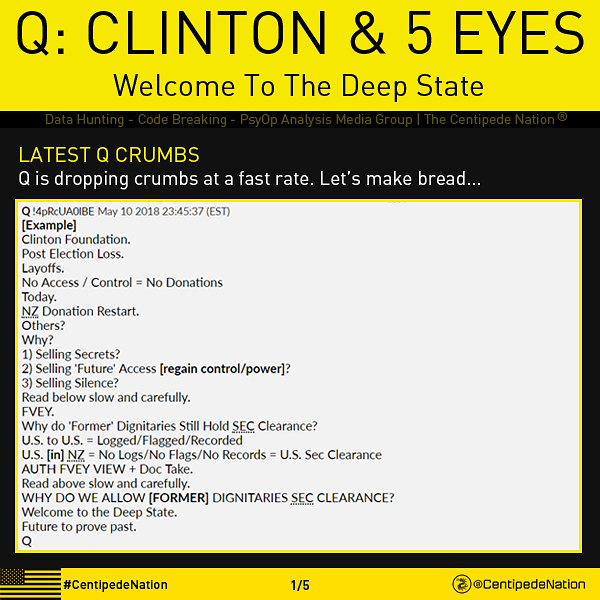 Q POST# 1336
Q is dropping crumbs at a fast rate. Let's make bread…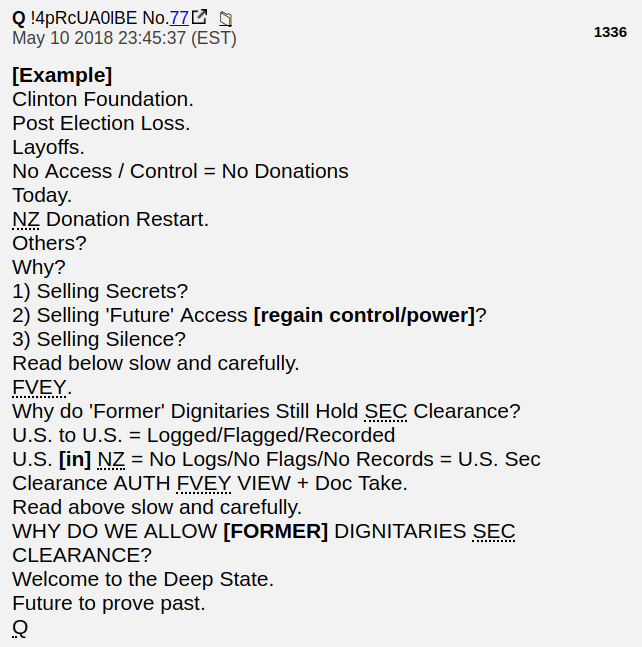 Today, New Zealand is back to donating money to the Clinton Foundation. Other countries are following suit. Why? What does HRC still have to sell? Items 1-3 (see below)
State secrets
Future access once the cabal retakes control
Selling silence on crimes that New Zealand and other "5eye" countries took part in.
Think about this: Can Hillary really sell something she doesn't have or will ever have?
It might be that when "Former" dignitaries use their Security clearance to access classified information while they're in the U.S., it's flagged and every request is tracked. BUT, when they're in one of the "5 eye" countries, there are no flags, logs, or records. They can access and take whatever they want. And that's possibly what Hillary is currently trying to sell.
Security clearance for former dignitaries sounds like a deep state policy. We let former dignitaries keep access / security clearances because a big portion of them are puppets and work for the cabal's agenda. Those that are untrustworthy to the black-hats, were probably given false Intel. But security clearances as a whole, allows efficient execution of back-room dealings for the cabal.
What will happen soon will shed light on these revelations. In fact, on October 29, 2017, Q posted the following:

Now that we know there's open investigations on the Clinton Foundation, plus the fact that she's still seeking funding, the hammer should be dropping soon.
What this possible means:
She is dangling promises of information for access. New Zealand is pretending to fall for it. Waving that irresistible cash – luring her in. Can New Zealand actually be a honeypot? Or are they just that stupid, thinking there will actually be a power shift?
Recent clinton donations highlight: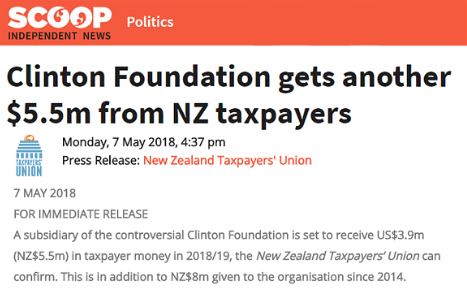 Support Centipede Nation
Stories like these are made possible by contributions from readers like you. If everyone who enjoys our website helps fund it, we can expand and improve our coverage further.