Snopes Dissected – Back Checking The Fact Checkers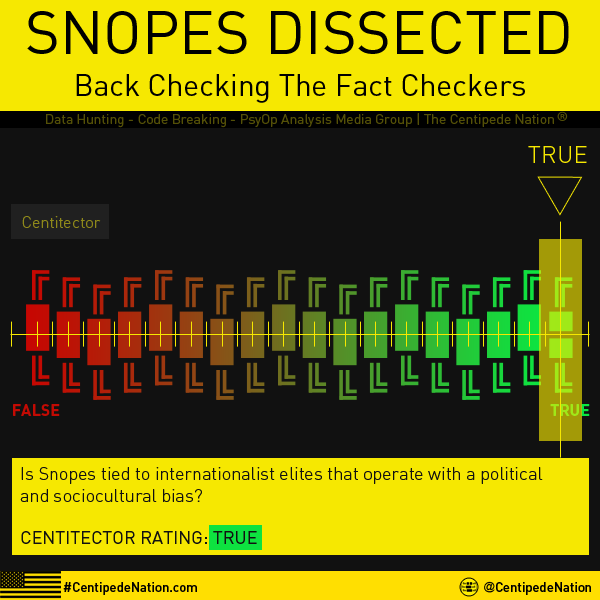 Is Snopes tied to internationalist elites that operate with a political and sociocultural bias?
CENTITECTOR RATING: TRUE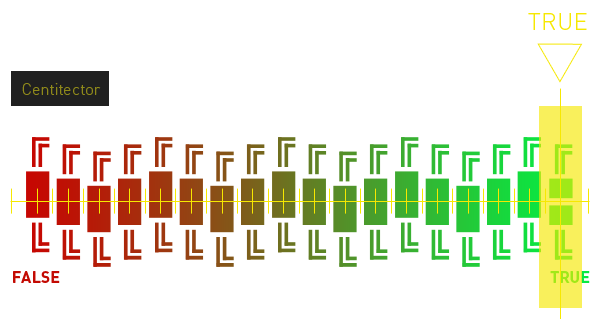 Who's Behind Snopes: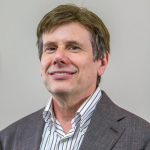 David Mikkelson
A Previous Employer:
Digital Equipment Corporation
https://www.snopes.com/snopes-staff/
Who's Digital Equipment Corporation: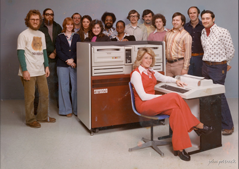 Digital Equipment Corporation is a computer company founded in 1957, and linked with the Office of Naval Research, the CIA and DARPA. DEC is known for creating the first successful mini computer.
In the Early 1990s Mikkelson was an active user in google groups and was using the username Snopes and often signed off with:
– David Mikkelson Digital Equipment Corporation, Culver City, CA USA +
Source
Controlled:
The Poynter Institute has enlisted Snopes.com into its initiative called the International Fact-Checking Network (IFCN). All Snopes editorial staff have completed "Fact-Checking" course provided by Poynter.
Source
Who is the Poynter Institute:
A non-profit school for journalism located in St. Petersburg, Florida. The school has direct ownership of PolitiFact and owns the Tampa Bay Times newspaper.

The Poynter institute is funded by the Bill & Melinda Gates Foundation (
$382,997
), Google (
$3 million
), the National Endowment for Democracy (NED) (
$308,000
), the Omidyar Network (
$1 Million
), the Soros Open Society Foundations (
$300,000
) and many more.
OTHER POYNTER FACTS:
On Oct 3, 2011, Poynter announced Grant money available to independent investigative journalists. Grants averaged $5,000 for independent journalists who are investigating issues in the U.S. which is made possible through generous funding from the Gannett Foundation, the Park Foundation, the Green Park Foundation, the Ethics & Excellence in Journalism Foundation, & the public.
Where have we heard about Gannett Before?:

The Zuckerberg Alliance:
Mark Zuckerberg: "We do not want to be arbiters of truth ourselves, but instead rely on our community and trusted third parties." The company partnered with third-party fact-checkers – including the Associated Press, Snopes.com, ABC News, and Politifact – who have been tasked with reviewing the news stories shared widely on Facebook and flagging false articles as "disputed content".

Contract with zango – a tel aviv connection
Snopes.com got a boost in resources and profits by contracting with a tel-aviv company called Zango (Previously Hotbar) by uploading spyware onto visitor's PC's discovered by Symantec and Mcafee. Zango provided a monetization platform for Snopes.com. In 2008, Snopes.com ended the contract with Zango after being called out on it publicly.

FACT: HotBar co-founder Oren Dobronsky attended Mamran Software Programming School Of The Israel Defense Forces. Was Zango (Hotbar) conducting espionage for the Israeli cyber-warfare command through distributor's like Snopes.com?
See Links:
https://www.crunchbase.com/organization/hotbar#section-overview
https://www.crunchbase.com/organization/zango#section-overview
employing prostitutes:
Divorce papers filed by ex-wife Barbara charges that David Mikkelson misappropriated $98,000 from Snopes.com over four years "which he expended upon himself and the prostitutes he hired", including air tickets for $10,000 on a 24-day "personal vacation" in India and for his then girlfriend/fiancee to fly to a last tango in Buenos Aires.

Elyssa Young, aka escort Erin O'Bryn and newlywed wife, for unstated services as a Snopes.com administrator.
Kimberly LaCapria, aka Vice Vixen, a dominatrix hired as the chief fact-checker for Snopes.com
Financial Disclosure Review:
CLAIM: They are almost entirely funded through programmatic digital ad sales.
CLAIM: Advertisers have no contact with the site's editorial staff and don't influence content in anyway.
CLAIM: They do no accept political advertising, or funding from political parties, political campaigns, or political advocacy groups.
CLAIM: They only accept contributions directly from readers and non-partisan organizations.
CLAIM: They disclose sources of contributions exceeding $10,000 or comprising more than 5% of our total annual revenue.
2016 Received $75,000 from the James Randi Educational Foundation
2017 Received $700,000 GoFundMe from crowd-funding
2017 Received $100,000 from Facebook (Non-Partisan? You decide)
The lawsuit and the counter:
"Fact-Checker Snopes' Owners Accused of Corporate Subterfuge"
Snopes was created in 2003 by Bardav Inc. an S-Corp owned 50/50 by David Mikkelson and his ex-wife Barbara in 2003.
After their divorce, Barbara sold her shares to Proper Media (who was a Snopes contractor). Since Bardav is an S-Corp, it can't have companies as shareholders, instead, only individuals are allowed. So the company (Proper Media) that wanted to buy Barbara's 50% shares of Snopes, had to have its founders and board members listed as shareholders. Vincent Green – one of Proper media's Board member – and Mikkelson both conspired to gain majority control of Bardav.
David Mikkelson wasn't pleased with this situation. Part of the divorce agreement was that if either sold their 50%, the other would have a 10 day right of first refusal, allowing the other to buy out the shares at the asking price. Even though Barbara sent him the 10 day notice, Mikkelson said Barbara sold the shares for "a figure that was utterly ridiculous" "Multiples of what anybody would pay…".
Let's Review their GoFundMe plea…
Snopes is crowd-funding on GoFundMe saying that it needed to raise money as soon as possible due to the lawsuit because "a vendor" refused to recognize that Snopes had terminated a contract and was holding the site "hostage". So far Snopes has raised more than $829K out of a $2M Goal.
Source

The problem with that? They have continued the crowd-funding even though they have regained control of their advertising stream in October 2017.
Help Centipede Nation Stay Online
Stories like these are made possible by contributions from readers like you. If everyone who enjoys our website helps fund it, we can keep our platform alive and expand our coverage further.