This Week In MAGA – Trump's America – Week 2 2020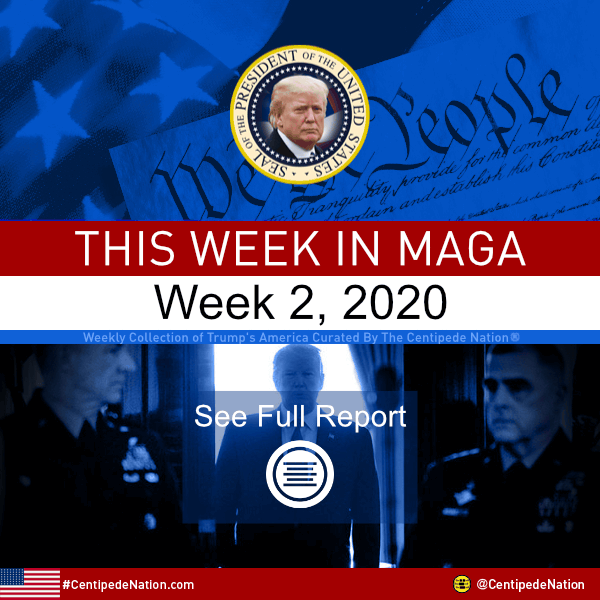 TWEET OF THE WEEK
به مردم شجاع و رنج کشیده ایران: من از ابتدای دوره ریاست جمهوریم با شما ایستاده‌ام و دولت من همچنان با شما خواهد ایستاد. ما اعتراضات شما را از نزدیک دنبال می کنیم. شجاعت شما الهام بخش است.

— Donald J. Trump (@realDonaldTrump) January 11, 2020
To the brave and suffering Iranian people: I have stood with you since the beginning of my presidency and my government will continue to stand with you. We are following your protests closely. Your courage is inspiring.
PHOTO OF THE WEEK


source: Doug Mills – @nytmills
---
Leave a comment below and let us know your thoughts. And as always, God bless America and long live the republic. Where we go one, we go all.
⠀⠀⠀⠀⠀⠀⠀⠀
⠀ . ╚⊙ ⊙╝⠀⠀⠀⠀⠀⠀⠀⠀⠀
..╚═(███)═╝⠀⠀⠀⠀⠀⠀⠀⠀⠀
.╚═(███)═╝⠀⠀⠀⠀⠀⠀⠀⠀⠀
╚═(███)═╝⠀⠀⠀⠀⠀⠀⠀⠀⠀
.╚═(███)═╝⠀⠀⠀⠀⠀⠀⠀⠀⠀
..╚═(███)═╝
Support Centipede Nation
Stories like these are made possible by contributions from readers like you. If everyone who enjoys our website helps fund it, we can expand and improve our coverage further.