This Week In MAGA – Trump's America – Week 33 2019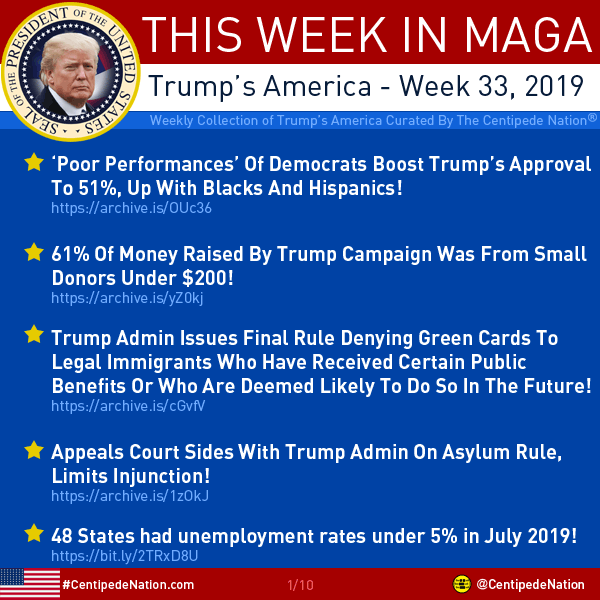 TWEET OF THE WEEK
Major consideration is being given to naming ANTIFA an "ORGANIZATION OF TERROR." Portland is being watched very closely. Hopefully the Mayor will be able to properly do his job!

— Donald J. Trump (@realDonaldTrump) August 17, 2019
RUNNER-UP TWEET OF THE WEEK
Rep. Tlaib wrote a letter to Israeli officials desperately wanting to visit her grandmother. Permission was quickly granted, whereupon Tlaib obnoxiously turned the approval down, a complete setup. The only real winner here is Tlaib's grandmother. She doesn't have to see her now!

— Donald J. Trump (@realDonaldTrump) August 16, 2019
PHOTO OF THE WEEK

---
Love Our News & Analysis?
Support Our Operation – Buy This Week's featured MAGA Merch: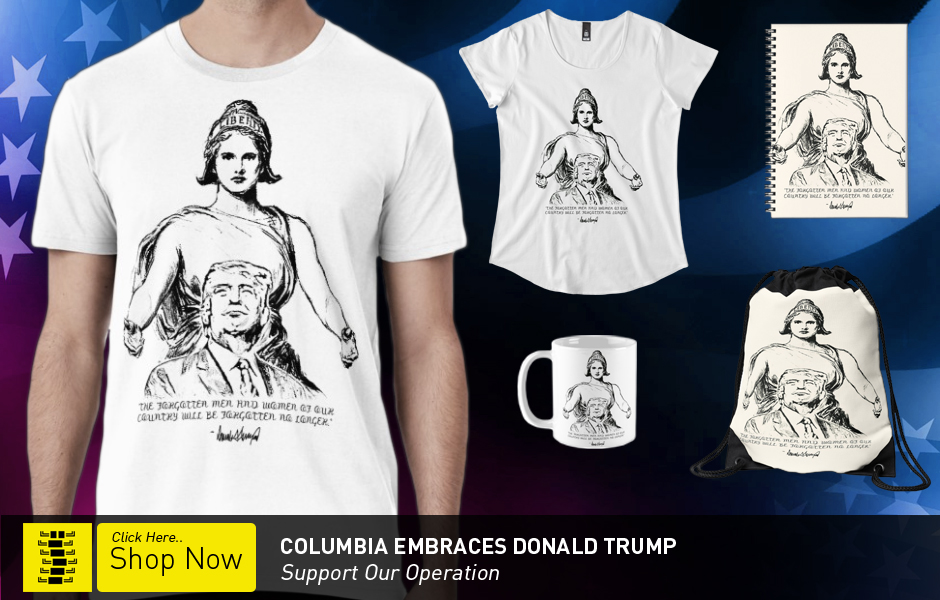 "The forgotten men and women of our country will be forgotten no longer. " – President Donald John Trump
Do you love your freedom & President Trump? Then show it off by getting this graphic printed on Shirt, mug, notebook, or whatever else that you desire. Trigger your leftist friends, family and co-workers, while letting the world know that you stand with America and Donald Trump. We made this with love for all you nimble navigator centipede's. Columbia embraces Donald Trump, our leader of the free world. She is the Goddess standing on top of America's most important building and overlooking the state Capital. The district bears her name. D.C. = District of Columbia. Columbia is the personification of the United States, the allegorical goddess of America and of liberty itself, the typically American mythological figure. In the 19th century, Columbia was visualized as a goddess-like female comparable to the British Britannia, the Italian Italia Turrita and the French Marianne.
We are entirely self funded. If you find our content helpful, please help us support the truth by becoming a Patron.
We hope these weekly reports help shine some light on the truth of Trump's America. It is important to us that these archives help redpill those that are stuck in a matrix.
Leave a comment below and let us know your thoughts. And as always, God bless America and long live the republic. Where we go one, we go all.
⠀⠀⠀⠀⠀⠀⠀⠀
⠀ . ╚⊙ ⊙╝⠀⠀⠀⠀⠀⠀⠀⠀⠀
..╚═(███)═╝⠀⠀⠀⠀⠀⠀⠀⠀⠀
.╚═(███)═╝⠀⠀⠀⠀⠀⠀⠀⠀⠀
╚═(███)═╝⠀⠀⠀⠀⠀⠀⠀⠀⠀
.╚═(███)═╝⠀⠀⠀⠀⠀⠀⠀⠀⠀
..╚═(███)═╝
Support Centipede Nation
Stories like these are made possible by contributions from readers like you. If everyone who enjoys our website helps fund it, we can expand and improve our coverage further.