Internet Rumour Says Epstein Is Alive on His Island. But Is He?…
View original article on centipedenation.com

The following is a screenshot taken from video taken by Rusty Shacklefold's YouTube.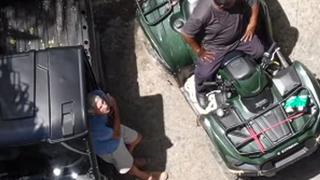 After some research, we found that it might just be fake news. Here, look at this other video:

Compare the two screenshots below, one from each video. It seems it's the same person – just the old maintenance guy.
Note: the guy has a distinctive dark spot on his grey head. Additionally he has what is called forward head posture where the shoulders slope forward.
Also, they would know the guy is droning. It wouldn't make much sense to go back to the island and just hang out nonchalantly.
---
Share your own digs in the comments below.
⠀⠀⠀⠀⠀⠀⠀⠀
⠀ . ╚⊙ ⊙╝⠀⠀⠀⠀⠀⠀⠀⠀⠀
..╚═(███)═╝⠀⠀⠀⠀⠀⠀⠀⠀⠀
.╚═(███)═╝⠀⠀⠀⠀⠀⠀⠀⠀⠀
╚═(███)═╝⠀⠀⠀⠀⠀⠀⠀⠀⠀
.╚═(███)═╝⠀⠀⠀⠀⠀⠀⠀⠀⠀
..╚═(███)═╝
Support Centipede Nation
Stories like these are made possible by contributions from readers like you. If everyone who enjoys our website helps fund it, we can expand and improve our coverage further.