Was a Chinese Husband & Wife Spy Team Removed Last Year From A Infectious Disease Facility In Canada For Sending Pathogens To China? The Husband's Specialty Was Coronavirus Research.
View original article on centipedenation.com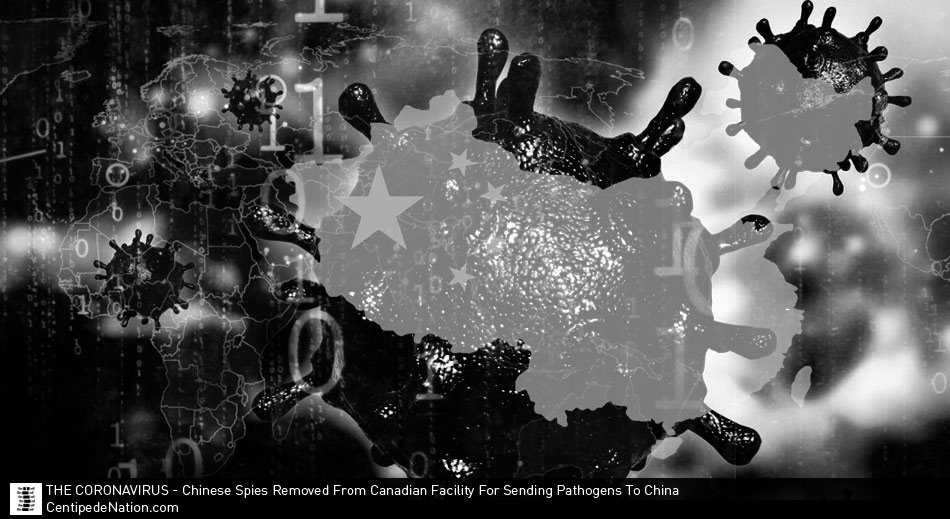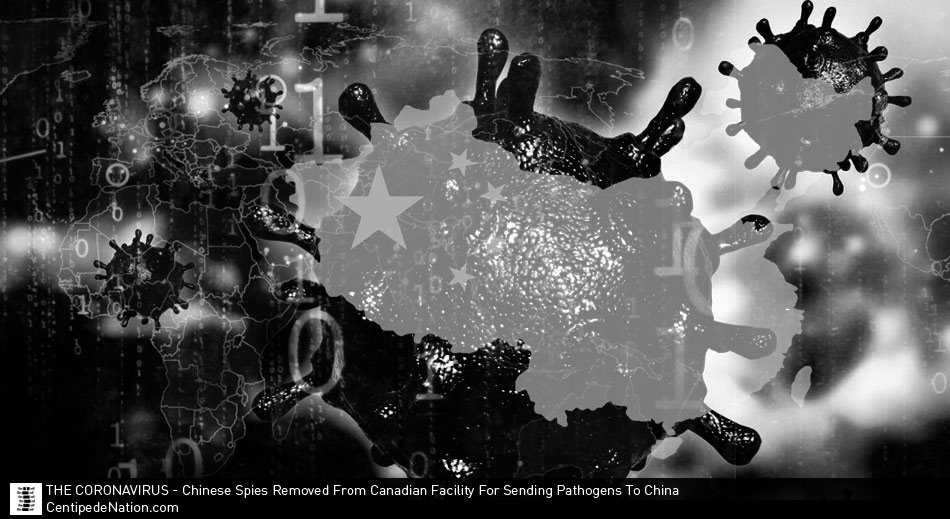 A Chinese couple were removed from a Canadian biohazard lab last year after shipments of deadly pathogens were sent to China. These Chinese agents frequented the biohazard lab in Wuhan China, where the current epedemic of the Coronavirus is rooted. In fact, this chinese lab is only 20 miles away from the meat market were the virus supposedly originated. Could this be the source of today's crisis, or just the usual case of intellectual property theft?
From CBC on Jul 14, 2019 :
Dr. Xiangguo Qiu, her husband Keding Cheng and an unknown number of her students from China were removed from Canada's only level-4 lab on July 5… A Level 4 virology facility is a lab equipped to work with the most serious and deadly human and animal diseases… this comes several months after IT specialists for the NML entered Qiu's office after-hours and replaced her computer. Her regular trips to China also started being denied… staff were told the researchers are on leave for an unknown period of time. They were told not to communicate with them… Her research focuses on vaccine development, post-exposure therapeutics and rapid diagnostics of viruses like Ebola… He has published research papers on HIV infections, Severe Acute Respiratory Syndrome (SARS), E. coli infections and Creutzfeldt-Jakob Syndrome.
From CBC on Oct 03, 2019:
Xiangguo Qiu – was invited to go to the Wuhan National Biosafety Laboratory of the Chinese Academy of Sciences twice a year for two years, for up to two weeks each time… During a Sept. 19-30, 2017, trip, she also met with collaborators in Beijing, the documents say… Several of them, who asked not to be identified for fears of retribution, say there have always been questions about Qiu's trips to China — and what information and technology she was sharing with researchers there. "It's not right that she's a Canadian government employee providing details of top-secret work and know-how to set up a high-containment lab for a foreign nation," one employee said.
This is a piece we found about Dr. Xiangguo Qiu:

Here are some details about the Biohazard lab in Wuhan China.
From Zerohedge & Nature:
…in February 2017, Nature penned an extensive profile of what it called the "Chinese lab poised to study world's most dangerous pathogens." The location of this BSL-4 rated lab? Why, Wuhan. A quick read of what this lab was meant to do, prompts the immediate question whether the coronavirus epidemic isn't a weaponized virus that just happened to escape the lab:

The Wuhan lab cost 300 million yuan (US$44 million), and to allay safety concerns it was built far above the flood plain and with the capacity to withstand a magnitude-7 earthquake, although the area has no history of strong earthquakes… The Chinese Academy of Sciences approved the construction of a BSL-4 laboratory in 2003, and the epidemic of SARS (severe acute respiratory syndrome) around the same time lent the project momentum…The lab's first project will be to study the BSL-3 pathogen that causes Crimean–Congo haemorrhagic fever: a deadly tick-borne virus that affects livestock across the world, including in northwest China, and that can jump to people. Future plans include studying the pathogen that causes SARS, which also doesn't require a BSL-4 lab, before moving on to Ebola and the West African Lassa virus…

What does BSL-4 mean?
SL-4 is the highest level of biocontainment: its criteria include filtering air and treating water and waste before they leave the laboratory, and stipulating that researchers change clothes and shower before and after using lab facilities. Such labs are often controversial. The first BSL-4 lab in Japan was built in 1981, but operated with lower-risk pathogens until 2015, when safety concerns were finally overcome.

And here's why all this is an issue:
Worries surround the Chinese lab. The SARS virus has escaped from high-level containment facilities in Beijing multiple times, notes Richard Ebright, a molecular biologist at Rutgers University in Piscataway, New Jersey.
Here's a link to a Patent for a Coronavirus by THE PIRBRIGHT INSTITUTE.
Hidden in a sock: Chinese researcher accused of trying to smuggle vials of 'biological material' out of US.
Customs officers found 21 vials containing a brown liquid wrapped in a plastic bag and hidden in a sock. Officers also found a laptop belonging to a Chinese national whose name had been redacted from the affidavit.

"These vials contacted what appeared to be biological materials that were not properly declared or packaged for transportation in a commercial aircraft," the affidavit said.
The New York Times reported that the FBI and the National Institutes of Health are trying to root out scientists suspected of stealing biomedical research for other countries. Almost all of the scientists that are under investigation are of Chinese descent.
The N.I.H. and the F.B.I. have begun a vast effort to root out scientists who they say are stealing biomedical research for other countries from institutions across the United States. Almost all of the incidents they uncovered and that are under investigation involve scientists of Chinese descent, including naturalized American citizens, allegedly stealing for China. Seventy-one institutions, including many of the most prestigious medical schools in the United States, are now investigating 180 individual cases involving potential theft of intellectual property.
[…] The investigations have fanned fears that China is exploiting the relative openness of the American scientific system to engage in wholesale economic espionage. At the same time, the scale of the dragnet has sent a tremor through the ranks of biomedical researchers…
"Coronavirus may have originated in lab linked to China's biowarfare program" – Washington Times
Dany Shoham, a former Israeli military intelligence officer who has studied Chinese biological warfare, said the institute is linked to Beijing's covert bio-weapons program.

"Certain laboratories in the institute have probably been engaged, in terms of research and development, in Chinese [biological weapons], at least collaterally, yet not as a principal facility of the Chinese BW alignment," Mr. Shoham told The Washington Times.

Work on biological weapons is conducted as part of dual civilian-military research and is "definitely covert," he said in an email.
Help Centipede Nation Stay Online
Stories like these are made possible by contributions from readers like you. If everyone who enjoys our website helps fund it, we can keep our platform alive and expand our coverage further.