PRISON PLANET: Facebook – DARPA – Building 8 – [China]
Facebook is listening to you 24/7

The question now is, where are they storing the data, who are they sharing it with, how are they using it, and what else is coming?
Global Data center – Asia
Facebook is one of the most heavily-trafficked sites on the internet. You need to look real hard to find where they set up their data centers as they like to hide them. But if you look at job openings from around the world, you'll get a glimpse of where they host their servers by the careers they offer. After some research, we found Singapore was a main hub for their data collection.



Source: Data Center Knowledge
Did somebody say China?
Chinese facial recognition technology
Facial-scanning technology is becoming a daily part of life in China, where they're used for surveillance, marketing, and social control.

Coming to the U.S., or is it already here?
Enter Building 8
As of 2017, a Facebook project/group known as Building 8 were working on everything from cameras and augmented reality, to brain scanning and mind-reading technology headed by Regina Dugan.
Who's Regina Dugan?
Served as the 19th Director of DARPA same time as the LifeLog project (now known as FaceBook).
In 2012, she left government to take an executive role at Google.
In 2015, she attended the Bilderberg conference in Austria discussing Artificial Intelligence.
In 2016, she left Google and joined Facebook to lead a newly formed team called Building 8.
Historical context on Regina Dugan
Regina Dugan told an audience at the 2013 All Things D11 Conference that her company was working on a microchip inside a pill that users would swallow daily in order obtain the "superpower" of having their entire body act as a biological authentication system for cellphones, cars, doors and other devices. Some would call Regina a totalitarian transhumanist. This was the person behind Building 8.

Mass Surveillance & Social Control
Not only does Facebook (DeepState) want to use the same type surveillance platform as China's for the U.S. market, but they want to use technology that would extract information out of your brain – whether you like it or not – information that you would consent to, but they "promise" to not manipulate it or you. Think about that.

[China-China-China]
The US government has alleged for years that Huawei has ties to the Chinese government and named Huawei and ZTE as serious risks to national security, claiming that their devices could spy on US citizens and send information back to Beijing. Even the heads of the FBI, CIA, and NSA all recommended that US citizens stay away from their devices. The revelation from Facebook that Huawei had access to user data has caused major concern.



SOURCE: The Verge
Who recently pulled out of FB – Artificial support
It seems everyone is trying to find out who owned Facebook stocks and pulled out, but it's not about that. Q was talking about the original agreement Facebook had with China's Zhejiang provincial government for the opening of an innovation hub in the country. The agreement has been withdrawn because the Cyberspace Administration of China felt it had not been consulted more closely. Or had it? Q is insinuating the support Facebook had from the Chinese government was artificial all along. So the excuse that China's internet regulator gave could have been a cover.
Why China pulled out of Facebook
China may have pulled out of Facebook because of many variables that include national security, intellectual property, & more. But we think they pulled out because they've been warned that Facebook is about to go down and Trump wants to make peace with Xi in China, so they have to distance themselves.
Breadcrumb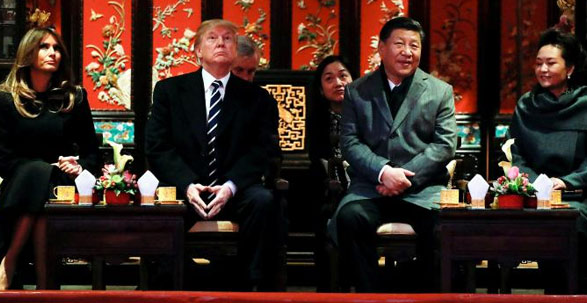 Significance? Trump is the first POTUS to ever dine in the Forbidden City. Think about what that means.
Help Centipede Nation Stay Online
Stories like these are made possible by contributions from readers like you. If everyone who enjoys our website helps fund it, we can keep our platform alive and expand our coverage further.