STONE COLD – Roger Stone vs the D.C. Circus Court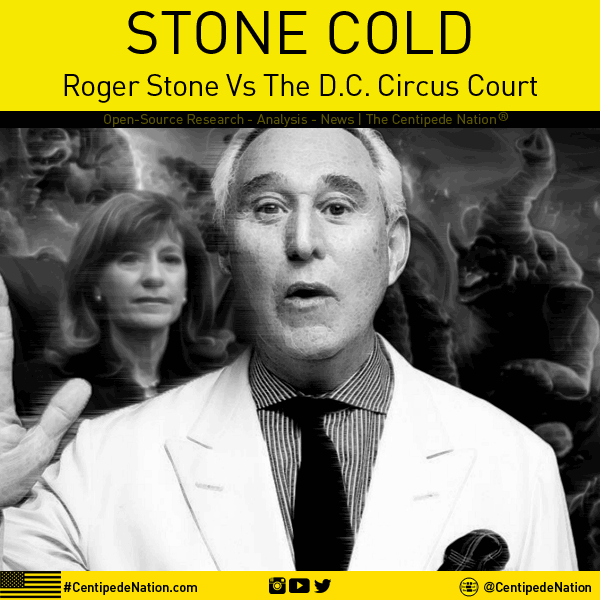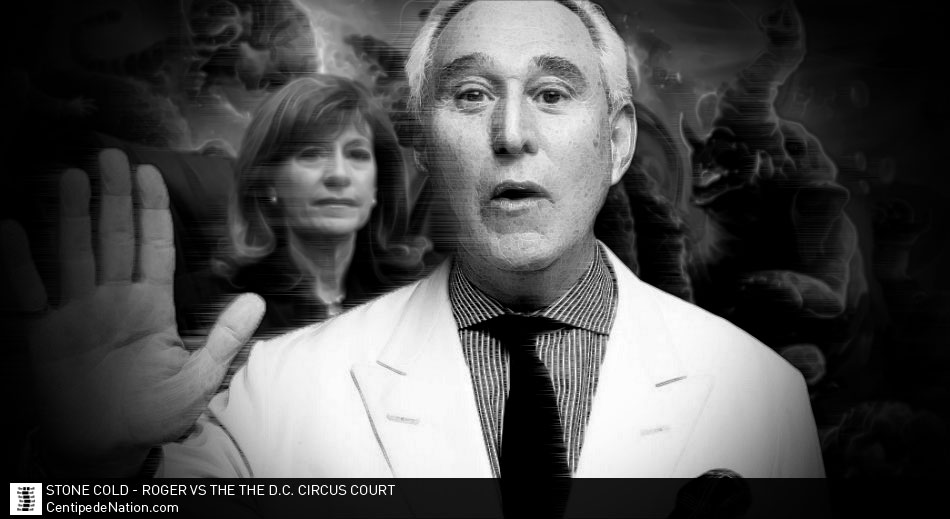 Roger Stone's trial has resulted in a guilty verdict on all seven felony charges. But was the trial fair? What were the felony charges? Who were the Jurors? Who was the Judge and who appointed her? Let's explore.
First a little backstory
Stone was accused of lying during his testimony with the House Intelligence Committee about his contacts with Randy Credico – a Wikileaks "intermediary", lying about his contacts with senior campaign officials, and having contacts with Wikileaks related to the stolen Hillary Clinton emails of the 2016 campaign. Stone pleaded not guilty.
The counts, via the Washington Examiner:
Count One alleges that Stone obstructed the House committee's investigation by denying he had emails and other documents about WikiLeaks-related contacts. During his House testimony, Stone was asked if he had "emails to anyone concerning the allegations of hacked documents … or any discussions you have had with third parties about [WikiLeaks]?" Stone answered that he did not, when in fact he had a bunch of emails and other communications. The obstruction charge also alleges Stone attempted to prevent Credico from testifying or tried to convince him to testify falsely.
Counts two through six concern specific statements to the House committee. Count Two is based on Stone's assertion that he did not have emails.
Count Three alleges that Stone lied when he said that Credico was his only "go-between" to Assange, when in fact, Stone was also in contact with Corsi for that purpose. "At no time did Stone identify [Corsi] to [the House] as another individual Stone contacted to serve as a 'go-between,'" the indictment says.
Count Four alleges that Stone lied when he said he did not ask Credico to communicate anything to Assange, when in fact Stone asked both Credico and Corsi to get in touch with Assange "to pass on requests … for documents Stone believed would be damaging to the Clinton campaign."
Count Five alleges that Stone lied when he told the House that he and Credico did not communicate via text message or email about WikiLeaks. Stone told the committee the two talked over the phone, when in fact, according to the indictment, "Stone and [Credico] … engaged in frequent written communications by email and text message."
Count Six alleges that Stone lied when he testified that he had never discussed his conversations with Credico with anyone at the Trump campaign, when in fact, "Stone spoke to multiple individuals involved in the Trump campaign about what he claimed to have learned from his intermediary to [WikiLeaks]."
Count Seven is a witness tampering charge, alleging that Stone tried to convince Credico to take the Fifth or to lie to the House committee.
Here's Roger Stone's remarks after his testimony with the House Intelligence Committee on Sept. 26, 2017:

Here's Roger Stone disputing the charges of lying during his testimony after his arrest:

Here's Roger Stone's over-the-top arrest where CNN just so happened to be there ready to film:

Welcome To The D.C. Clown Show
The first potential juror that the Obama-Appointed U.S. District Court Judge Amy Berman Jackson brought forward, was none other than a former press secretary in the Office of Management and Budget during the Obama administration. You read that right, the Obama-appointed Judge's first juror was a former Obama admin official. This juror also admitted to having a negative view of Trump. It gets worse, the juror's husband also currently works in the Justice Department's national security division, which was involved in the investigation of the Trump campaign and other Trump associates, including Stone.
As you could imagine, Roger Stone and his lawyers requested to remove this potential Juror due to bias, but Judge Amy Berman Jackson rejected their argument. Judge Amy Berman Jackson said that she would not remove potential jurors solely on the basis that they work for the federal government or because of their views of Trump. Instead, she asked whether or not the potential jurors could set aside any opinions to render an impartial verdict.
How did the Judge not see the obvious prejudice of this Obama admin government employee, especially since she had an obvious hatred towards Trump, and who's husband works in the DOJ? Stone's defense team had obvious cause to remove this juror. Why did Judge Jackson refuse?
Who is Judge Amy Berman Jackson?
Judge Amy Berman Jackson is a United States District Judge of the United States District Court for the District of Columbia. She was appointed by Obama on March 18, 2011, and is allegedly one of the most corrupt Judges in US history. Let's take a dive into her history:
This judge has not been particularly nice to Stone either, after Stone exposed Judge Jackson for dropping the lawsuit against Clinton over Benghazi, she put a gag order on Stone, barring him from posting, talking, or writing about his case publicly.
Here's Roger's post on Judge Amy Berman Jackson: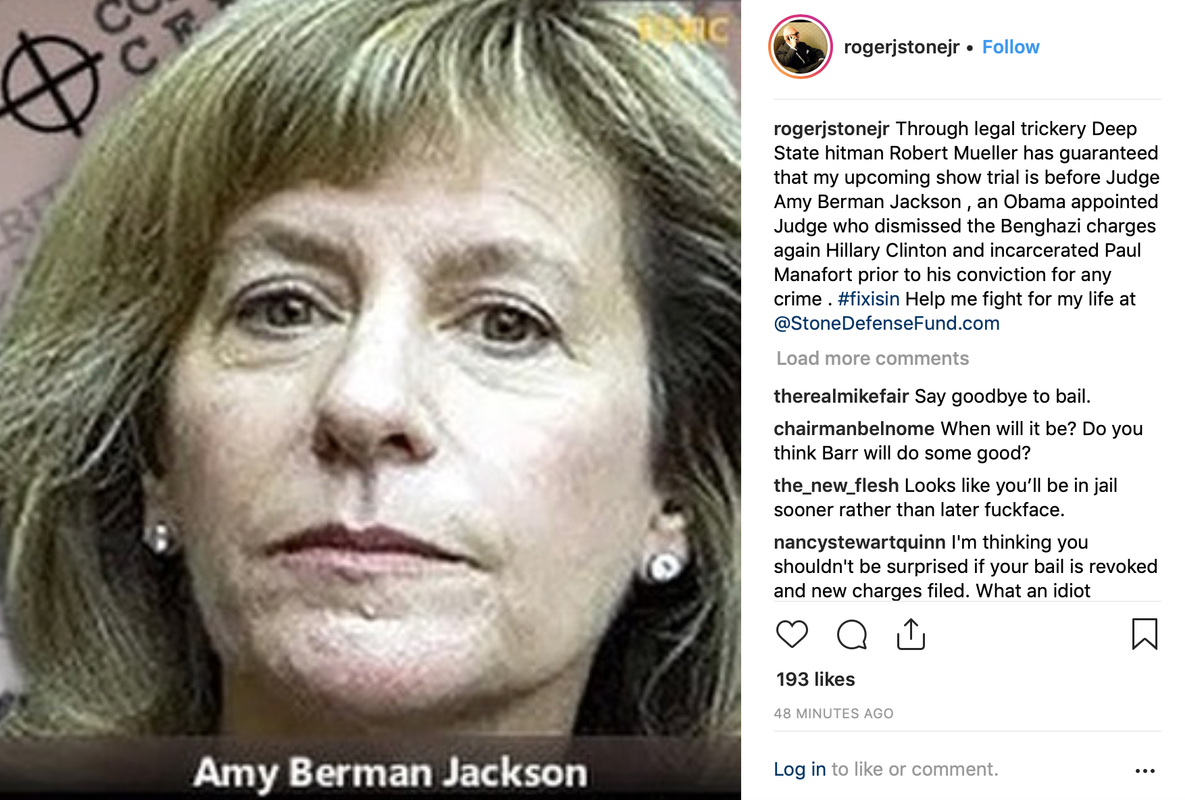 While the fake news media went crazy with a story that Stone had posted an image of the Judge with cross-hairs, in actuality, those 'cross-hairs were part of a logo from a larger image that stone had used. In fact, in a since deleted instagram post, Stone followed up with saying "What some say are crosshairs are in fact the logo of the organization that originally posted it something called corruption central," he said. "They use the logo in many photos."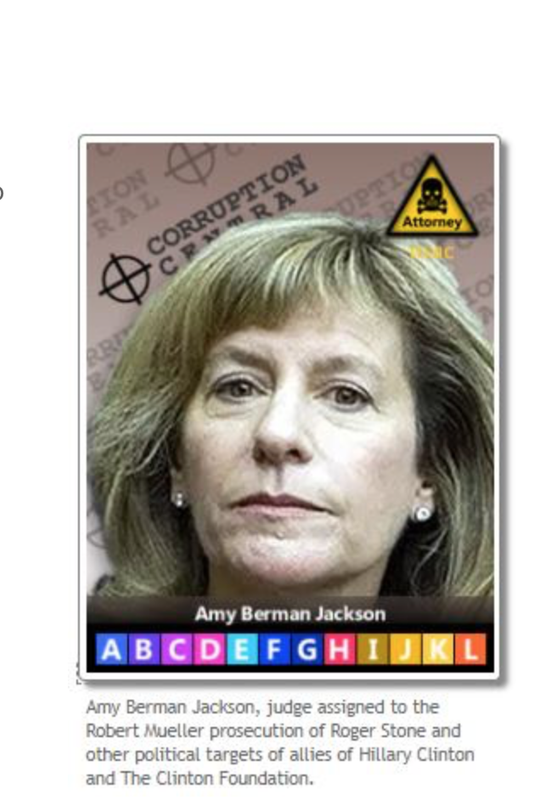 Roger Stone Gets Sick
On the first day of Roger Stone's Trial, instead of focusing on the obvious obstruction by Judge Jackson, the media decided to focus on other events that transpired during the first day of Stone's Trial. Soon after the charade of Judge Jackson and the Obama-era juror, Roger Stone started to show signs of being ill.
From Politico:
Stone got up and asked his wife to join him as he left the courtroom. With the defendant absent, the packed room got quiet while the judge appeared confused. Then a spectator sitting in the back row moaned loudly and collapsed. Jackson adjourned the proceedings and cleared the courtroom while medical personnel and Stone's daughter, a trauma nurse, attended to the sick man. After about 15 minutes, the man walked out of the courtroom on his own, and the D.C. fire department took him out of the building on a stretcher.

Court personnel wearing rubber gloves arrived and started cleaning the area in the courtroom where the man fell ill, as well as in the hallway outside the courtroom. The proceedings resumed with Stone back at the defense table, though he appeared visibly shaken and a bit ashen. Three more potential jurors were deemed qualified. At one point, Stone was resting his head on one of his hands. That prompted some private consultations at the judge's bench, followed by Jackson calling for a lunch break. She said she hoped proceedings would resume "more energetically after an hour and some fresh air."
Stone with his wife, daughter and lawyers then proceeded to the courthouse's health unit. After the lunch break, Stone returned to the courtroom and said he wanted the proceedings to continue without him as he had food poisoning. "I don't want to waste the court's time or the time of the jurors." Stone said. Jackson agreed to continued the questioning of potential jurors without him.
Here's Stone as he left the courthouse:

Obama's Deep State Slaves
Have you noticed that almost everything Trump wants to accomplish is constantly being targeted by these Obama appointed Judges? In fact Federal District Judges have blocked Trump more than 30 times since he has been in office, far more times then previous administrations. Those affiliated with Trump are not left out of this attack by the deep state. There definitely is a not-so-secret war going on and the left is obviously struggling to hold on to whatever power it has left.
Will this recent attempt by Obama's slave Judge Jackson backfire and help with Roger's defense when it comes to appeal the case? Only time will tell.
Will Roger Stone Be Pardoned by President Trump?
….A double standard like never seen before in the history of our Country?

— Donald J. Trump (@realDonaldTrump) November 15, 2019
#RogerStoneDidNothingWrong
---
As always, God bless America and long live the republic. Where we go one, we go all.
⠀⠀⠀⠀⠀⠀⠀⠀
⠀ . ╚⊙ ⊙╝⠀⠀⠀⠀⠀⠀⠀⠀⠀
..╚═(███)═╝⠀⠀⠀⠀⠀⠀⠀⠀⠀
.╚═(███)═╝⠀⠀⠀⠀⠀⠀⠀⠀⠀
╚═(███)═╝⠀⠀⠀⠀⠀⠀⠀⠀⠀
.╚═(███)═╝⠀⠀⠀⠀⠀⠀⠀⠀⠀
..╚═(███)═╝
Support Centipede Nation
Stories like these are made possible by contributions from readers like you. If everyone who enjoys our website helps fund it, we can expand and improve our coverage further.